Description:
In some occasions, it might be necessary to modify the mileage. There are four ways to do that:
| | | | |
| --- | --- | --- | --- |
| Method name | Only TT2 objects? | Only Service Providers? | Location |
| Advanced Configurator | No | No | Local |
| SMS command | No | No | Remote |
| Vehicle details | Yes | No | Remote |
| Calculated inputs | Yes | Yes | Remote |
NOTE: The mileage correction function is not available for Flespi Teltonika devices (available only for Ruptela devices). If it is needed for other device types, please contact Technical Support in order to register a new feature estimation.
A. Advanced Configurator:
1 - Connect the device to the computer using a USB cable.
2 - Open Device Center and go to Advanced Mode.
3 - Select COM Port and click on Connect.
4 - Click on Tools > Set Virtual odometer.
You can now set the internal Virtual odometer value (in meters). More information is HERE.
B. SMS command:
Please see the following article for compatibility and instructions:
C. Vehicle details:
This method only applies if you are using TrustTrack2.
1 - Login to your TrustTrack2 account.
2 - Go to Fleet status menu.
3 - Select one object.
4 - Go to Summary overview.
5 - Go to Vehicle details:
The user can correct the mileage of the vehicle and check the history of previous changes. The history of changes can be checked, by clicking the history icon next to the Mileage correction. Up to 5 last changes are displayed:

To correct the mileage, move the mouse over the current mileage and an edit icon will appear, click the icon to open the correction menu. Here the user can specify the new mileage value and the date from which to apply the new mileage value: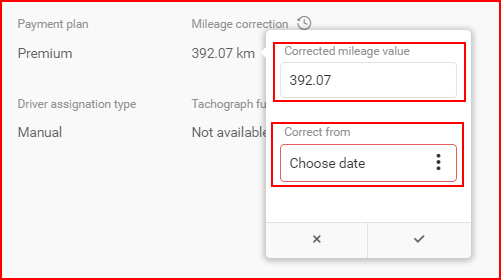 Once a change is made, it must be saved by clicking the ✓ icon. Several rules apply to mileage correction:
Mileage can be changed for each vehicle only once per 24 hours.
The correction date can be up to 35 days in the past.
Mileage correction can only be done by Administrators.
Mileage correction is only available for vehicles that send mileage information from the virtual odometer.
Source: https://www.fmsdocumentation.com/overview-menu/summary-overview/?hilite=%27mileage%27%2C%27correction%27
D. Calculated inputs
1 - Login to your LCM account.
2 - Go to Objects.
3 - Search for the object.
4 - Go to View/Edit.
5 - Scroll down to the Calculated inputs section.
6 - Go to Mileage calculated input.
7 - Select Custom function and modify the mileage to your liking.
In the example below, in addition to converting meters to kilometers, 10000 km were added to the mileage:
8 - Save the settings.
Additionally, if the new formula needs to be applied not from now on but from a specific date in the past, you can use the recalculation feature.